A Few More of my Favourite Photographers
Part Two
---
From time to time I would like to present some photographers whose work I really enjoy and find inspirational.
These brief profiles are not presented in any particular order or any kind of grouping. They are really just random tributes to artists I admire.
Michael Kenna
England, 1953 -
Michael Kenna was born into an Irish-Catholic family in the town of Widnes, North East England. After attending seminary school he made the excellent decision to follow his creative interests instead of joining the priesthood. He earned a degree in commercial photography from the London College of Printing in 1976.
He is best known for his minimalist, other-worldly black and white landscapes, mainly shot using Kodak Trix-400 on Hasselblad and Holga medium format cameras. The square format of his photographs obviously plays a large part in his distinctive style. He tends to shoot in very low light, mainly at night or pre-dawn with some exposures lasting up to ten hours.
Kenna honed his darkroom skills over an eight year period working as printer for Ruth Bernhard, a well known photographer and member of Group f/64. He continues to make silver gelatin prints using traditional methods in his own darkroom. Much of his work has a light sepia tone, to add just the right amount of warmth to the highlights.
I find his work incredibly emotive but at the same time, calming and beautiful. I wish I could get some more of that into my own photographs.
"For me, the subtlety of black and white inspires the imagination of the individual viewer to complete the picture in the mind's eye. It doesn't attempt to compete with the outside world. I believe it is calmer and gentler than colour, and persists longer in our visual memory."
William Eugene Smith
USA, 1918 - 1978
W. Eugene Smith got his start in photography at age 15, shooting for local newspapers in Witchita, Kansas. He went on to work for Newsweek, Flying Magazine, and Lift Magazine before eventually joining Magnum as an associate in 1957.
His photo essays are legendary. In particular his documentary photographs taken during the War in the Pacific from 1943 until 1945 when he was seriously injured by a mortar blast.
To be honest, while I really admire his documentary work, it isn't the kind of stuff I would usually pay a lot of attention to, until recently. A couple of months ago I watched the movie "Minamata", a film about Smith's last photo essay made in the 1970s. An essay that highlighted the victims of mercury poisoning in a small Japanese fishing village. That movie got me right in the feels and led me to researching even more of his work.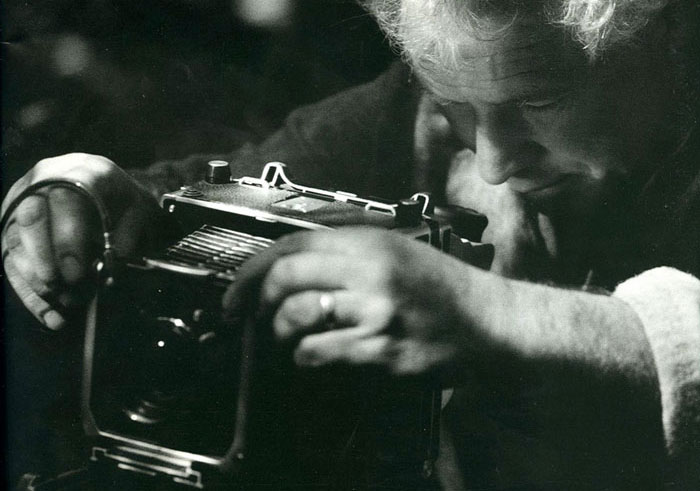 Peter Dombrovskis
Australia, 1945 - 1996
Peter Drombrovskis was born in a refugee camp in Germany and emigrated with his Latvian mother to Tasmania when he was five years old. His first photographic work was a pictorial calendar released in 1973, his first book of photographs came out two years later.
He would grow up to spend most of his life photographing the magnificent Tasmanian wilderness using a Linhof Master Technika 4x5 camera and colour transparency film. He was known to head into the wilderness for a week at a time, walking or paddling a canoe. He would carry everything needed for a week long excursion, including his camera kit with three lenses and fifty sheets of film, together with his food and camping gear.
In 2003 Dombrovskis was inducted, posthumously, into the International Photography Hall of Fame becoming the first Australian inductee. He died from a heart attack while making photos in the Western Arthurs mountain range, SW Tasmania.
His photo Morning Mist, Rock Island Bend, Franklin River is widely credited for the saving of the Franklin River through the cancellation of the Gordon-below-Franklin Dam project. By extension, some people also credit (or blame) the photograph for assisting in the election of Bob Hawke as Prime Minister in 1983.
A couple of years ago I managed to get to a retrospective exhibit of his work at the Monash Gallery of Art. All of the prints on display were digital reproductions but extremely well done. I found it incredibly inspiring viewing his work up close. Seeing his images convinced me to shoot more landscapes in portrait orientation.
His website doesn't actually have much information or any of his images. Instead, here is a link to an Australian Photography article, published in 2017.